The Logo is being updated from ™ to ®. See
Trademark
.
About
The logo is based on and uses at some parts a font called "Paneuropa Road" by Peter Wiegel which was released under "Open Font License".
You can download the font e.g. here:
http://www.fontspace.com/peter-wiegel/paneuropa-
The ® symbol was created using "Liberation Sans" font at size 24pt and is converted to paths/curves so it is not necessary to have it installed at all.
The latest versions of the logo were edited and saved as Inkscape SVG file using Inkscape on Linux.
Tiki Wiki CMS Groupware
Raspberry option theme variant (modern/flat)
As seen in use on this Branding site.
Blue gradient
Download this logo
Black and white
Download a PDF
Download the SVG source
Tiki diamond symbol
Download this logo
Download the SVG source
Tiki Software Community Association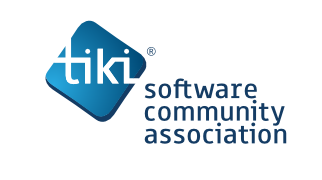 Download this logo
Tiki.org
Blue gradient
Download this logo
Download the SVG source
Black and white
Download a PDF
Download the SVG source
Tiki Services Provider
http://info.tiki.org/Tiki+Service+Provider
Examples in the wild
Ohloh
Tiki_64x64.png
Microsoft Web Platform Installer
Tiki_WCG_200x200.png
http://www.microsoft.com/web/gallery/
SourceForge.net
Tiki_48x45.png
Logo in SVG
Logo in Base64
Related links
Alias