A
banner stand
will be at the 2011 OSCON Tiki booth. This is useful for trade shows and FOSS events and is very portable (you can bring as carry-on for a flight). It is very tall (like 8') and visible from afar. It is great for group pictures during
TikiFests
. We may also make a
Poster
from this design.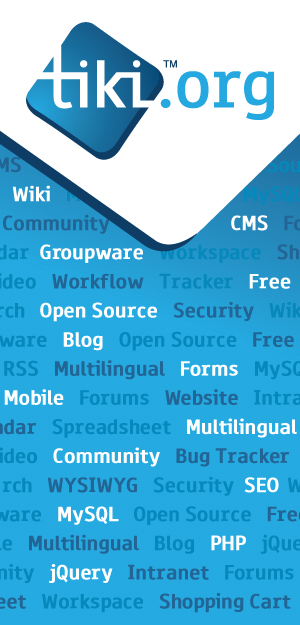 Tiki features / specs printed on banner
Please help with the list of keywords below: (what should be added / what should be removed?) What will catch people's attention and make them stop by at the booth?
The 29 "Most important" keywords below will be on the banner stand and the ones in bold will be in white for more emphasis.
Most important
Wiki
CMS
Groupware
Website
Blog
Intranet
Forums
Open Source
Free
Calendar
Forms
Mobile
Spreadsheet
Workspace
Multilingual
Shopping Cart
Video
Workflow
Bug Tracker
Extranet
Search
WYSIWYG
SEO
RSS
Community
Security
PHP (tm)
MySQL (tm)
jQuery(tm)
2 second most important
""Zend Framework
Smarty
CRM
Polls
Help Desk
Newsletter
LDAP
Versioning
Permissions
3 Third most important
International
Plugins
Collaboration
Web Services
Dynamic
Portal
Images
Standards
Modules
Accounting
SVN
WikiWay
Webmail
Knowledge Base
Registration
File Gallery
Banners
Translation
Maps
Stats
Project Management
Comments
Payments
Credits
Performance
Perspectives
Ratings
Slideshow
Themes
Share
Watch
4 Only if space
Reports
Robust
Flexible
Value
Active
Award-winning
Solution
Content
Issue Tracker
Articles
Live Support
Messages
Knowledge Management
Social Networking
Bookmarks
Groupmail
i18n
Multi-domain
Small banner stand